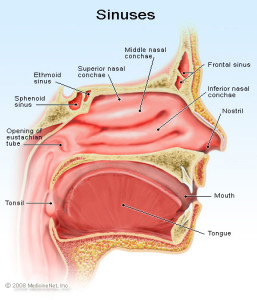 For the Treatment of Chronic Sinusitis, Headache and Nasal Obstruction
Highly successful in treating patients with recurrent infection, headache and nasal obstruction, nasal and sinus surgery is performed frequently in the surgery center. Many patients may have a smell deficit which is often improved after nasal surgery. Patients frequently have failed conservative treatment of antibiotics, steroid nasal sprays and allergy treatment. Asthma patients can often be helped after sinus surgery as chronic sinusitis may exacerbate their asthma symptoms.
The surgery is done as an outpatient with a short stay in the recovery room after the surgery. State of the art endoscopic surgical instrumentation is used along with micro- instrumentation specifically for nasal and sinus surgery. No external incisions are required and the images in the operating room are magnified on a digital screen which enable more exact surgical technique. Our center uses the latest technology in sinus surgery including CT guided systems when indicated. The use of CT enables the surgeon to track the instrumentation in a more exact manner, especially in revision cases.  Packing is used in some patients with healing taking place over several weeks post-operatively.